Tottenham Hotspur continue their run of difficult matches this week with a home game against a Liverpool team that has been climbing the ranks of late. After spending the first part of the season in the relegation zone with speculation about the future of Roy Hodgson, Liverpool have found their form and look to continue their ascent against Tottenham in a match which favors the home side. Tottenham, too, have been in great form, with a comeback victory against Arsenal in the North London Derby, followed by a Champions League knockout stage qualification with an easy victory over Werder Bremen. Let's take a look at the squads' starting 11:
Tottenham Hotspur (4-4-2)
Heurelho Gomes (GK)
Alan Hutton (RB)
Younes Kaboul (CB)
William Gallas (CB)
Benoit Assou-Ekotto (LB)
Aaron Lennon (RW)
Wilson Palacios (CM)
Luka Modric (CM)
Gareth Bale (LW)
Rafael Van der Vaart (ST)
Peter Crouch (ST)
Liverpool Reds (4-4-2)
Pepe Reina (GK)
Glen Johnson (RB)
Jamie Carragher (CB)
Martin Skrtel (CB)
Paul Konchesky (LB)
Dirk Kuyt (RW)
Raul Meireles (CM)
Lucas (CM)
Maxi Rodriguez (LW)
Fernando Torres (ST)
David Ngog (ST)
Lineup Notes - Redknapp obviously feels that Spurs need some help up front, putting VDV in the striker position alongside Peter Crouch. With the likes of Crouch and Pav up front, Tottenham don't get much speed, but with the return of Defoe and the implementation of VDV into the striker position, Spurs can stretch the opposing defense. Palacios in for injured Jenas/Huddlestone presents a problem in the midfield as he is primarily a defensive midfielder, not known for his offensive prowess. Modric is going to have to patrol the entire middle of the field. I'm surprised we're not seeing any signs of Corluka on the right side of the defense, as Hutton is clearly a worse defender. Corluka can't push the ball up the right side like Hutton and it appears Redknapp doesn't want to handicap that right side, offensively. Liverpool puts Dirk Kuyt on the RW position instead of up front with Torres, giving David Ngog the nod at ST. Torres still hasn't gained full form this season, although he's shown some
flashes of brilliance
as the season's progressed. The test for Tottenham's defense will be stopping the entry passes to Torres from the likes of Kuyt and Rodriguez on the wings. The absence of Stephen Gerrard and Joe Cole are still being felt by Liverpool as the Reds have been struggling to score goals this season.
On to the game!
0:00 - Will Gallas gets the captain's armband again this week in a possible sign of Redknapp's superstition. It appears the team has taken to him as a captain as he gives the pregame pep talk before Spurs break and take their positions.
0:39 - VDV is all over the place. No way is this a true 4-4-2 as VDV is playing the CAM role in which he's most comfortable.
3:00 - Lennon, in pretty good form lately, accelerates down the center half with Crouch and Modric trailing but overruns the ball by the time he reaches the box. When he gets the ball again in his corner, a nice move on Konchesky puts him inside the box with a quick cross to Modric who fires a shot right at Reina.
5:00 - The first 5 minutes, while entertaining, have been pretty sloppy by both teams. Wilson Palacios looks completely lost, and has on several occasions passed the ball either to absolutely nobody or directly at a Liverpool player.
6:30 - Bale with a great through-ball to VDV who ultimately runs out of room. I can get used to VdV in the striker position.
7:20 - On the other end of the pitch, Torres with the ball at the top of the box, hits a streaking Maxi Rodriguez who has a wide open net before he's whistled for being offsides. I love how these defensive players are so disciplined with keeping a perfectly straight line and not flinching when a striker sneaks in behind them.
8:30 - Liverpool with their first chance on goal as Torres sends the ball wide right past an outstretched Gomes.
9:26 - VDV pulls up limp after a backheel pass in the box which ultimately was defended well and cleared away. Another blow to the Tottenham midfield as it's clear that VDV has pulled his hamstring and won't be returning to the pitch. Defoe is warming up on the sidelines while Tottenham plays with 10 men. Eventually Lennon kicks the ball out of bounds to allow the substitution, as the camera's show VDV walking with a trainer back to the locker room. I really don't know how many more injuries this Tottenham team can handle. Defoe is surely an offensive threat, but he doesn't have the presence and awareness on the pitch like VDV.
10:00 - Palacios with another display of offensive ineptitude kills another attack with a pass directly at the Liverpool defense. The crowd at White Hart Lane is becoming restless as they cheer sarcastically the next time Palacios handles the ball and passes successfully to a member of his own team.
16:56 - Through the first 15 minutes, Tottenham is surprisingly winning the possession battle. Bale wins a corner and makes the perfect cross to Crouch in the middle of the box. Unfortunately, Bale aimed it at the wrong part of Crouch's body (his feet) as he shanked the shot out of bounds for a goal kick. I'm sure Harry was saving his Defoe substitution to replace Crouch at some point in the second half. Since he was forced to burn the sub on VDV, get ready to see more plays like this from Crouch moving forward.
24:10 - As Palacios sends another pass far behind Aaron Lennon and out bounds, Redknapp stands up from his seat just to send a message. He doesn't say a word, the fact that he's standing is enough.
25:00 - On the next Tottenham offensive possession, Hutton surges into the box and goes down looking for a penalty. Replays confirm that Hutton was completely untouched as he left his feet and hit the ground as if stepping on a land mine. Spurs are lucky he didn't get a yellow for diving. Spurs fans should be pissed because he stifled a perfectly good chance on offense in a weak attempt at winning a penalty.
29:10 - Konchesky drops a streaking Gareth Bale and gets yellow card without much argument. That's the second yellow Bale has drawn from the Liverpool defense (Miereles the other).
30:00 - Lennon hits a streaking Modric off a throw-in whose cross to crouch was deflected by the keeper, Reina. Defoe receives a gift at his feet about 3 ft. from goal and puts it right into Carragher's foot. The team's top striker CANNOT miss from this distance. Defoe is in poor form today.
33:00 - A meek run by Torres results in a shot deflected by Kaboul from about 40 yards out. The play ended innocently, then the camera pans over to an injured Kaboul. The shot from Torres appears to have drilled Kaboul directly in the knee. Sebastian Bassong comes on for Kaboul, another blow for Tottenham.
37:00 - Passing is still flat, and the defense looks shaky. It's about this time that I received a text from Preston saying "spurs going to give one up soon".
41:54 - Unfortunately, he was right. Konchesky with a free kick, puts the ball into the middle of a frenzy in the box which ultimately ended with Martin Skrtel banging the ball past Gomes. The ball should've been cleared easily by Palacios or Gallas, but they just couldn't get there in time. Such is Tottenham's luck this game. Top striker can't put it past a defender's foot, but Liverpool's defender manages to put one home.
Half Time notes - Piss poor first half performance by Spurs. Defoe was wildly inaccurate, Palacios can't make a pass, and the defense is having trouble clearing the box. Liverpool, although leading, didn't look that much better either as 3 defenders have yellows due to the fact that they can't seem to slow down Gareth Bale or Luka Modric without tackling them from behind. Fernando Torres has been a non-factor in this game. Toward the closing moments of the second half, Torres had not one but TWO one-on-one opportunities with only Gomes to beat for the goal. Both times he was just too slow, allowing Bassong to catch up and clear. He's obviously still not recovered from last season's knee injury. Liverpool is going to sit back on their defensive haunches and Tottenham's going to need a second half miracle a la North London Derby, to pull this one out without VDV.
45:50 - The announcers remind us all that Liverpool is only 3 points behind the Spurs in the table, "which is funny considering the perception that Liverpool has had such a poor start to the season". I feel sick...
46:00 - On the bright side, Torres with yet another open run into the box is stopped yet again by Bassong. An appeal for a penalty falls on deaf ears as it was obvious Bassong got to the ball first before Torres hit the deck.
48:43 - Crouch handles a cross from Bale which makes it's way out to Defoe at the top of the box. Instead of controlling the ball and attempting a solid shot, Defoe drills the bouncing ball directly into the ground kicking up a divit. Does he need to just stick to the decoy role for now until he reaches game form?
51:09 - Similar situation for Bale who handles the high bouncing ball much better than Defoe, putting a hard bouncing shot on goal, beating the goalie but not the shiney head of Raul Miereles who cleared the ball away from the net.
57:30 - Defoe with the ball outside the box gets hit in the face by Jamie Carragher, giving Tottenham the free kick. Bale lines up to take the kick in the absence of VDV. He drills the ball into the outstretched ARMS of David Ngog in shades of last weekend's North London Derby (Fabregas was also penalized for a handball inside the box). Defoe lines up to take the kick...HE MISSED! Defoe couldn't even put the ball on net! Tottenham's best chance to tie the game is squandered as "the little fellow" is continuing his poor form. Tottenham is just 5 of 9 in PK's this situation.
62:50 - Two-thirds gone and the second half has been all Spurs, but they've yet to convert. With injuries to their best offensive weapon (VDV) and defensive anchor (Kaboul), they've struggled to regain composure. VDV would've likely converted that PK.
64:50 - Modric wins possession and runs between Carragher, Lucas, and Johnson and crosses it to Crouch waiting on the goal line. Martin Skrtel slides feet first for the clear and deflects the ball into his own net. GOOALLL! Skrtel with a goal on both ends of the field! Spurs 1 1 Liverpool. Even if Skrtel didn't deflect the ball, Crouch was waiting in the wings for an easy deflection. Spurs fans have to feel like they deserve that one after the missed PK.
70:45 - Fernando Torres took a shot from literally just past midfield. I guess he figures he can't do anything with the ball close to the net, so he'd give it a try from distance.
73:43 - Ngog leaves the pitch injured as Fabio Aurelio replaces him. Kuyt moves up to play striker next to Torres as Liverpool now have two strikers who are shells of their former selves. This is a positive turn of event for Spurs who can look to attack without the fear of a quick counterattack.
79:59 - Crouch with a cross from the right side which is deflected by Pepe Reina. The ball bounces high to Bale who somehow gets over it enough to put a bouncing shot on goal not unlike the shot from the 52nd minute. This time he fires it directly back into Reina. That looked like it might have been the winner for Tottenham. Bale appears to have injured his calf on the play as he's been grabbing at it and stretching it during down time. This may be something to look out for in the future.
81:44 - Liverpool appears to be bleeding the clock...after their 1 0 first half lead has been overcome, they'd be happy to settle for the draw. Tottenham on the other hand is pressing hard. They know they're supposed to win this one, and they still want it.
83:14 - Miereles left alone atop the box drills a shot that finds itself just wide of the net and busting teeth of the fans in the 5th row. That was Liverpool's best chance at a winner late in the game.
84:19 - Carragher appears to have injured his shoulder as both teams get a breather. As Carragher is being helped off the field, he yells over to the sideline something to the effect of "get up you wanka!" as Kyrgiakos hasn't even put his game jersey on yet to replace him.
88:56 - BAE crosses from midfield to Peter Crouch at the top of the box, who knocks it down for Lennon. Lennon with the header to a streaking Defoe and he heads it home!!! GOOAA....SH*T!!! Offsides flag up and the goal doesn't count.
90:00 - Both sides really trading blows now as a Gomes punch steals a goal from Torres on the other end of the field.
91:15 - BAE with another long pass up the field to Crouch who knocks it down for Lennon. Lennon with a quick step inside the defender has a clear path to goal. He takes the shot as he enters the box and SCORES! Goal for Aaron Lennon and Tottenham takes the late lead! Spurs 2 1 Liverpool.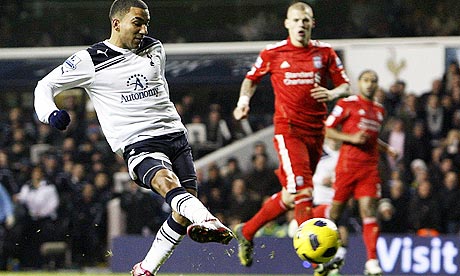 Lennon's "go faster" stripes powered him past Konchesky and the Liverpool defense.
92:51 - Sandro replaces Defoe late as an added defensive commodity. It's unlikely that Liverpool is going to let up in the last few minutes, as they try to steal 2 points from this match.
94:43 - Liverpool pushes the ball up the field for their last offensive efforts. Torres with a cross results in a Lennon clear and a tripped up Johnson allows Lennon to blow down the left half of the field with Modric and Bale trailing him. Lennon takes the shot just wide of the far post!
Full time - What a way to end this game! It was looking bleak in the first half as VDV and Kaboul were sent off with injuries. Defoe and the Tottenham offense sputtered through most of the game with a few flashes of brilliance from Modric and ultimately Lennon with the winner. Irony flying high as "Lennon" is a name that will be spoken unfavorably in Liverpool for the next week! Great game Spurs!